A TURNKEY SERVICE THAT ALLOWS YOU TO PRINT MULTIPLE LARGE-FORMAT MATERIALS EFFICIENTLY: ROAD SIGNAGE, WALL STICKERS, BANNERS, COROPLAST SIGNS, AND MANY MORE.
Large-format printing comes in various forms at Ardezin. Our specialized equipment allows us to complete the wide majority of projects that are presented to us efficiently and in a cost-effective way. Our turnkey service includes everything you need in order to reach a satisfying result. We take care of everything: measurements, design and graphics, printing and production, as well as preparation and installation.
GET A QUOTE
TURNKEY SERVICE

MEASUREMENTS

DESIGN AND GRAPHICS PRINTING AND PRODUCTION

PREPARATION AND INSTALLATION
AVAILABLE PRODUCTS
>INTERIOR WALL STICKER
>DECAL STICKER
>MAGNETIC DECAL
>COROPLAST SIGN
>CAR WRAP
>PERFORATED VINYL PRINT
>VINYL BANNER
>FREESTANDING BANNER
>SANDWICH TYPE SIGN
>WINDOW DISPLAY
>SITE SIGN
>PRINTED BARRICADE
>INFORMATIVE SIGNAGE
>ROAD SIGN
>SPECIAL PROJECT
THE BENEFIT OF QUALITY MATERIALS
A large-format printing job is, more often than not, completed with the goal of displaying it over a long period of time. That's why we gravitate towards quality materials in order to make your advertisement as durable as possible. We mostly use Sintra, aluminium and sticker vinyl. Take a look at our projects section to see some of our completed works.
>Sintra
>Silver aluminium 1/8
>Long-term sticker vinyl
>Styrene
>White aluminium 1/8
>Short-term sticker vinyl
>Coroplast 4 mil - 6 mil - 10 mil
>Vinyl banner
>Reflective sticker vinyl
>Paper banner
>Transparent sticker vinyl
>Magnetic strips
>Perforated vinyl for windows
>Brushed aluminium vinyl
>Brushed aluminium 1/8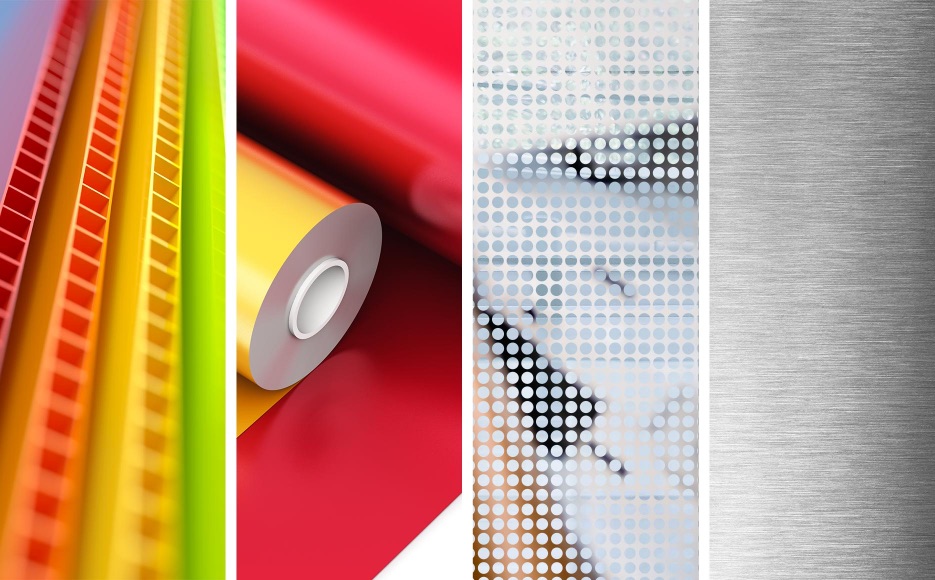 NEED NEW BUSINESS CARDS? WE HAVE THE RIGHT TEAM TO GET THE JOB DONE!
LEARN MORE